New Book The Four Horsemen of Psoriasis Published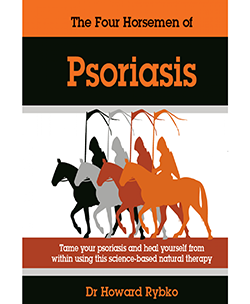 This book is designed to be read and returned again and again over time. Some of my early readers say that have a break and then return to a section and select a specific area to concentrate on, which often results in an improvement in some area of their lives.
Which is exactly what happened to me a while back.
After a workout with a heavy kettle-bell, I developed an injury to both of my knees, which left me almost unable to walk. Somehow, this injury woke the sleeping psoriasis daemon, ballooning my knees with the swelling of psoriatic arthritis. This crippled me for almost a month, unable to walk, unable to cycle and unable to sleep because of the pain.
In desperation, I returned to the book to make sure that I was adhering to the basics of the program. More flax seed oil, more bone broth soup, more sleep and less stress, eventually banished the daemon to its subterranean lair. Yesterday I was ecstatic because I managed to cycle for an hour on an indoor bike, withalmost no pain. This morning, I sprang from my bed and landed on pain free knees; tomorrow I will ride my mountain bike and hammer the hills once again.
The crazy thing is that when the pain was at its worst, I seriously contemplated taking a biologic or autoimmune suppressor drug to help me get better. Luckily for me, patience and persistence prevailed.
I hope that this serves as a reminder to myself and all the others I would so much like to be able to help, that psoriasis is a beast that can be banished using common sense, natural techniques and a little patience.