Dr. Howard Rybko on Banting Sucks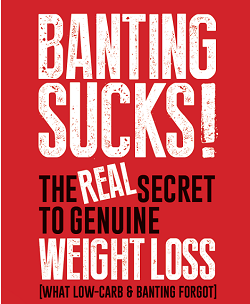 A new book challenging the Banting hype, its potential health risks and its lack of long term results is set to hit the shelves mid-March. Written by the author who brought you 'The Decarb Diet', Dr Howard Rybko says this book addresses the issue of sustainable weight loss and insulin control like no other book has before.
Banting Sucks addresses how Banting rarely works for women over the age of 40 and how fad diets are demonizing carbs and needlessly banning many healthy food choices. Rybko claims the diet plan simply does not work because ultimately, it raises insulin levels which can lead to multiple medical problems including weight gain, heart disease and cancer.
"Banting plus exercise predictably leads to weight loss in most males (and some females) but it does not always result in normalized blood sugar or insulin levels." says Dr. Howard Rybko.
According to Rybko, the reasons why banters stop getting results is due to insulin spikes which occur from eating too much of the wrong foods, mainly proteins. In Banting Sucks, Dr Howard Rybko offers practical solutions that are achievable, sustainable and effective. The result? A quality lifestyle that allows you eat well, stress less, sleep better, enjoy a lifetime of good health and live longer.
Why Banting Sucks will be available to purchase from mid-March at all leading book stores and through Amazon and Kindle.
About the Author
Dr. Howard Rybko was born in Johannesburg, South Africa in 1956. He attended the University of the Witwatersrand where he obtained his Bachelor of Medicine and Bachelor of Surgery (MBBCh) degree's. Dr Rybko also has a background in the medical software industry. After two years of research he went into his own practice, specializing in diet and weight management. In the 90s he took an active interest in sport nutrition and performance, specializing in cycling, a sport that he is still actively involved in. Dr Howard Rybko is the author of Decarb Diets and The Four Horsemen of Psoriasis.
Issued by Jam Media.
For more information, contact Jess Mouneimne
Ph: 084 827 9730
Email: jess@jammedia.co.za